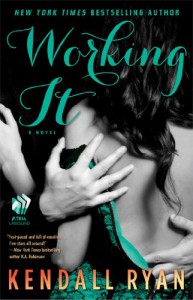 Note: I received a free e-copy of this book for my honest feedback. I was not paid to write this review.
Thank goodness Working It by Kendall Ryan is one of a series because Working Itwasn't quite satisfying… I definitely need more of Ben Shaw.
I love Emmy. Although she may have been a bit naive, she's a strong woman. For the most part she stands her ground with Ben. I just wish she'd face Fiona, the boss from hell. Until she does, I think her character still has lots of growing to do. She shouldn't let her boss treat her that way even if she is her boss.
I like Ben or at least the man he seems to become. I have major issues with his relationship with Fiona and his lack of action regarding it. I totally called it, knowing what their relationship entailed.
(show spoiler)
I hated that he didn't seem quite man enough to get out from under her thumb. In many ways he made the decisions and in many ways he was a follower. He has a lot of growing up to do.
Overall, I enjoyed the story. I like Emmy and Ben together. I definitely will read the next installment. I need to see where this goes. Plus there's still a lot of unanswered questions. I honestly got to the end of it and was like "wait, that's it?" Hence, the feeling of dissatisfaction and needing more. Plus I did expect a bit more drama in the end. Emmy didn't quite act the way I thought she would.